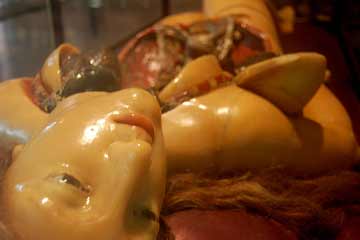 Anatomical Venus Wax Model at the Semmelweiss Medical Museum
by Curious Expeditions
Some posts on one of my favorite topics: first, Curious Expeditions had a first-hand account of a visit to the Josephinum. Then, Proceedings of the Athanasius Kircher Society followed up by listing no less than fourteen other museums, almost all European, with notable collections of wax sculpture or moulage (La Specola is #2).
Of course, if you're going to plan a summer jaunt to Europe to commune with medical models, why limit yourself to wax and moulage? Curious Expeditions also "ran into" an ivory obstetric figurine by Zick at the Semmelweis Medical Museum, and have a smashing flickrset of the occasion, from which I abducted the Venus image at the top of this post. I'm convinced Curious Expeditions are the new Rick Steves of the wunderkammer set. . .