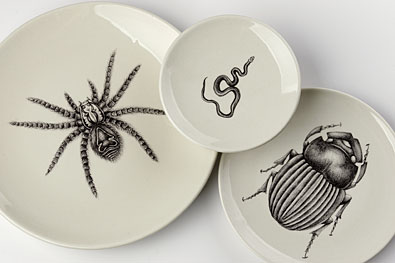 dinner, salad, and dessert plates
Laura Zindel
Laura Zindel Ceramics
My friend Lorraine alerted me to this amazing ceramic tableware by Laura Zindel. Zindel says:
I believe that some objects can carry a personal history through a family from year to year. I hope that I can make art that a family member can buy to be handed down the line. Something bought on a whim, that becomes the platter for the turkey, or sits on the mantel. "Crazy old Uncle Larry bought that peculiar spider platter, and we just can't seem to part with it", I would like to be a part of that.
I'm far from squeamish, but I don't know about those tarantulas. . . I love the snakes and beetles, though.
These patterns would rock a wedding registry – any entomologists/herpetologists getting married out there?
Thanks Lorraine!