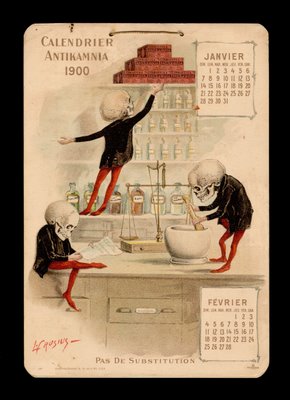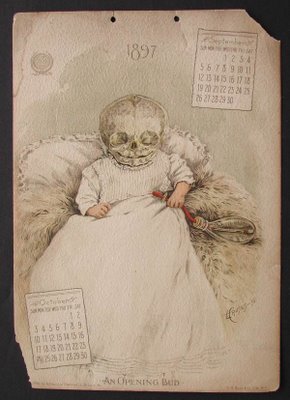 Illustrations for Antikamnia Chemical Company Calendars, 1900 & 1897
Louis Crucius, ~1890
BibliOdyssey turned up this wicked advertising campaign by turn-of-the-century pharmaglomerate Antikamnia Chemical Company. The calenders were targeted at medical professionals, not the average consumer, for whom I presume a baby skeleton in a christening gown would be a slight turn-off.
I like the little pharmoompa-loompas the best. I wish I'd had some in grad school. Or for grading exams. . .
By the way, this is exactly why illustrators need skulls as references. Crucius must have had access to a newborn's skull as well: note the broad, thin mandible and the diamond-shaped fontanel (soft spot) on top of the head. It's a fairly accurate drawing.