I've been running across an unusually large number of things I covet lately, and it occurred to me that if you are reading my blog, you (or your friends/family) might have similar tastes. So I thought I'd post a list of gift ideas for those of you who are starting to look. I am NOT getting commissions, I promise.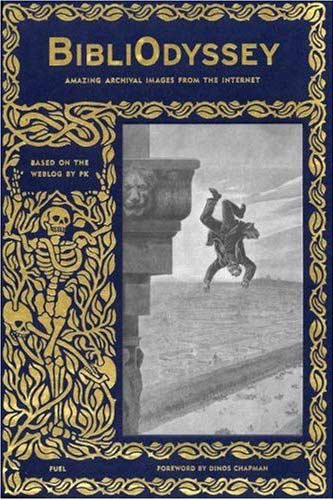 First, with GREAT fanfare: Peacay/PK at BibliOdyssey has accomplished what I'd have judged impossible: a book! My mind boggles at the copyright implications. . . it must have been an incredible pain to track down book rights to the images, but what a treasure (and how fitting for the images to go full circle, from old books, to a blog, back to paper). BibliOdyssey – the Book: Amazing Archival Images from the Internet
There is a wonderful interview with PK here, at 3 quarks daily.
Just in: a review of the book here.
* * * * *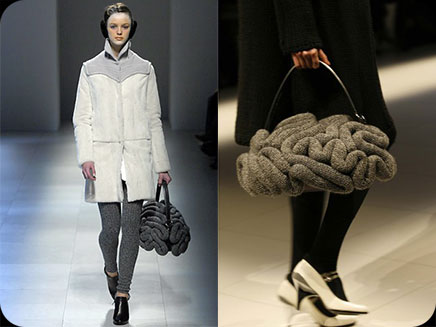 The Undercover Brain Bag by Jun Takahashi: a purse with sulci and gyri. It's like doing a callosotomy every time you get your wallet out! I found this via Virginia Hughes. Before you get your hopes up, apparently there's only one of these bags, and I can't figure out how much it is or how exactly to buy it! Maybe that's the point: unless your brain is that big, you can't have it. At (I think) Someday Store.
* * * * *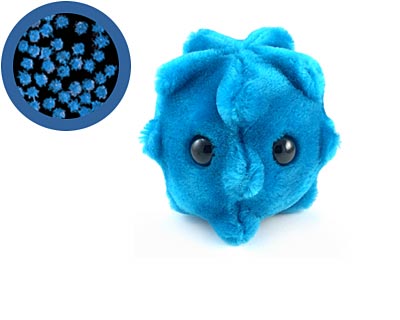 Now this is the best. I hope you already know that for Christmas you can give your loved one gonorrhea, herpes, or even Ebola. And they're so CUTE! Think Geek: Giant Plush Microbes
No explanation why they have a neuron in the list with all the contagions, but I'd like one of those, too.
* * * * *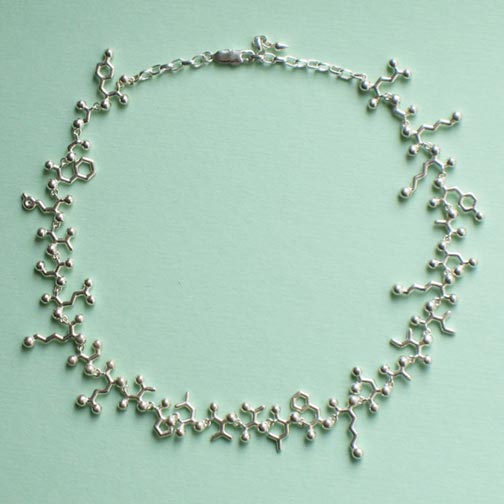 Made With Molecules: sterling silver beta-endorphin choker necklace
I know I keep plugging Raven Hanna's neurotransmitter jewelry, but she just told me her long-awaited endorphin choker has been revealed publicly. This gem is the entire sequence of beta-endorphin. This is the gift for the lady geek who already has everything else – and given the time that goes into one necklace, you will want to order NOW!
Myself, I'm still eyeing Raven's neurotransmitter charm bracelets. Who knows, it might help with what my boss referred to last week as "your very apparent GABA imbalance."
* * * * *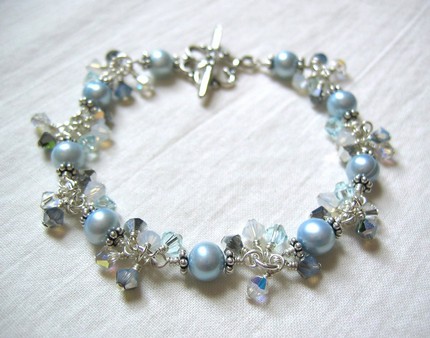 Not everyone knows their endorphin from their estrogen, and non-scientists need gifts too. For non-molecular jewelry, visit my friend Ophelia's etsy shop (Ophelia herself IS a scientist). I get compliments every time I wear her work – it happened again today – and you know no one else will have the same piece, which is especially nice for me since I and all my friends shop at Ann Taylor, and unfortunately have the same clothes. Ophelia's Jewels
* * * * *

The "Science: It Works, Bitches" T-shirt. I have almost bought this like, five times. What is stopping me??? Oh yeah – I'm broke. Blame Ann Taylor. the xkcd.com store: t-shirts
* * * * *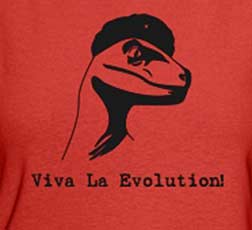 The "viva la evolution" t-shirt. Che Guevara's Jurassic doppleganger: what more could you want?? Trilobite clothing
* * * * *
Pretty things from Walteria Living and emily amey here, and here.
* * * * *
New! Check out Street Anatomy's own Christmas list of anatomy-related gifts
* * * * *
I will be updating this list as more strange things appear on my wishlist. . . for the record, Santa, I have none of these things . . . yet.
Of course, if you really really like me, you'll buy me this.