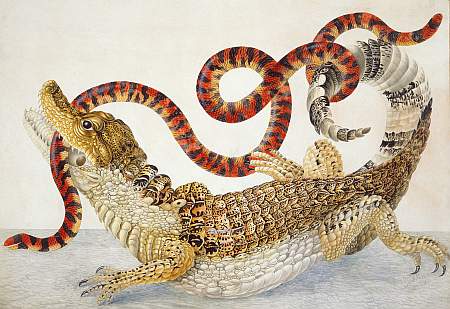 Common or 'spectacled' caiman and South American false coral snake
Maria Sibylla Merian, c.1705-10
The Royal Collection: Amazing Rare Things
There is a common denominator that links all these artists. It is the profound joy that all feel who observe the natural world with a sustained and devoted intensity.
- Sir David Attenborough
I was tickled to see this charming Telegraph article on a natural illustration exhibition entitled "Amazing, Rare Things" (beginning March 2 at the Queen's Gallery, Holyroodhouse, Edinburgh). I was even more tickled to realize it was written by Sir David Attenborough. His nature documentary series, like The Living Planet (1984), had a huge impact on me as a child. Even now, if I visualize the concept "ecosystem," I see not empty savanna, but David Attenborough in the savanna, wearing his genteel exploratory khakis, whispering or shouting depending on what sort of fascinating creature he was stalking.
Even when he was being sandblasted or frozen or heckled by lyrebirds, Attenborough always seemed genuinely delighted to be there. That's why his words above, about nature artists, ring so true. The late Crocodile Hunter, Steve Irwin, gave me the same impression; it's tragic that his career was only a fraction of Attenborough's long tenure. It seems fitting that Terri Irwin introduced this touching, often hilarious 2006 NTA tribute to Attenborough (Part 1; Part 2). It includes some wonderful black and white footage of the naturalist as a young man. I never even realized how much I loved Attenborough, until I watched this.