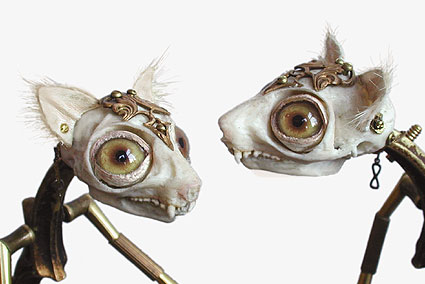 Enzo & Donato
Brass, bone, fur, cast/painted plastic, glass eyes
Jessica Joslin, 2004
Jessica Joslin's work is exactly what this blog is about: straddling the awkward rift between biological specimen and art object, and doing so with grace and charm. Her sculptures are chimeras of real and simulated bone, metal, found objects, and wistful glass eyes.
Joslin just finished a winter show at the Lisa Sette Gallery in Scottsdale, Arizona. From the Lisa Sette Gallery newsletter:
While each piece she employs in her eerie animal reliquary is delicately beautiful, it is also the detritus of human engineering and design: old brass buttons and gold braid, glass beads, clockwork cogs and velvet ribbon. Such items are reminiscent of the whimsical technology of a century past, one's grandparents' house, the dark interiors of old fashioned movie theatres – and as such they have an intriguing, wistful quality. In other words, Joslin collects the things that all of us secretly want to, the shiny pieces that we might comb through, handle and admire, but ultimately force ourselves to put down; what would we do with such things?
I love that in Joslin's pieces, bone – the most enduring part of an animal – seems like the ephemeral, fragile component, snugly caged in traceries of metal. It's as if, in some steampunk future, the souvenirs of our biological heritage have been lovingly preserved and gradually repaired Tin Man-style, until the metal patches become the bulk of the beast.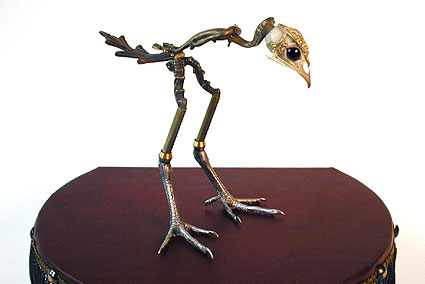 Perrin
Antique hardware, brass, bone, leather, glass eyes
Jessica Joslin, 2005
View more pieces from Joslin's four collections (Brass Menagerie, Flights of Fancy, Aves & Mammalia, and Cabinet of Curiosities) at her website.
Interview with Jessica Joslin from Art&Design.