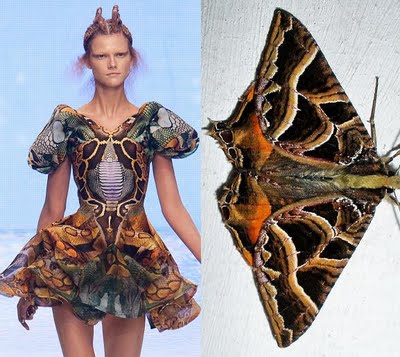 From the archives at Trend De La Creme: pieces from Alexander McQueen's Spring 2010 collection, "Plato's Atlantis," juxtaposed with moths.
Critics described McQueen's collection as reptilian: "short, reptile-patterned, digitally printed dresses, their gangly legs sunk in grotesque shoes that looked like the armored heads of a fantastical breed of antediluvian sea monster." But it's hard to believe, based on Trend De La Creme's sleuthing, that McQueen's symmetrical patterns weren't in part inspired by wings.
Via wicked-halo, via Jennifer Ouellette.