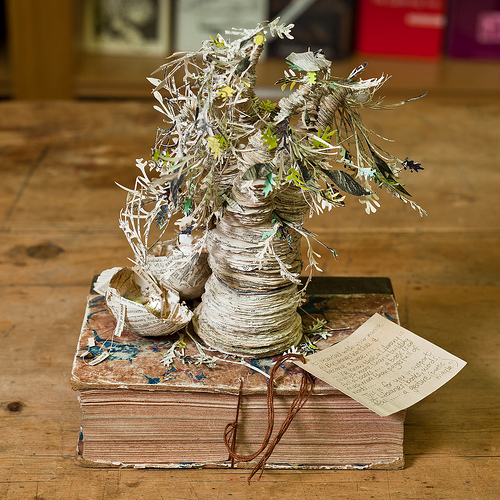 My friend Libby sent me this inspiring story from one of my favorite cities, Edinburgh, where an anonymous artist has been leaving intricate book sculptures in local libraries. First, in March, the Scottish Poetry Library (which uses the wonderful institutional Twitter handle @byleaveswelive) found an ancient-looking, weathered tree on one of its tables. The only clue was this note:
It started with your name @byleaveswelive and became a tree.… … We know that a library is so much more than a building full of books… a book is so much more than pages full of words.… This is for you in support of libraries, books, words, ideas….. a gesture (poetic maybe?)
Over the next few months, a total of ten book sculptures were left around Edinburgh, ranging from a T-Rex bursting out of a copy of Arthur Conan Doyle's Lost World, to an intricate feathered wing cap and gloves (see Chris Donia's photos of all ten sculptures, including the one at the top of this post, at This Is Central Station, or in this gallery at iO9). The gifts have come to an end now, yet the artist has chosen to remain unknown — although we do know she's a woman, thanks to one of her later notes ("Some had wondered who it was, leaving these small strange objects. Some even thought it was a 'he'! ……. As if!") By choosing anonymity, the artist has kept the focus on the art, the books, and the delight of giving, while expecting nothing in return.
I only wish I'd thought of this first! Maybe someday I'll aspire to be a copycat. . . maybe we all should.