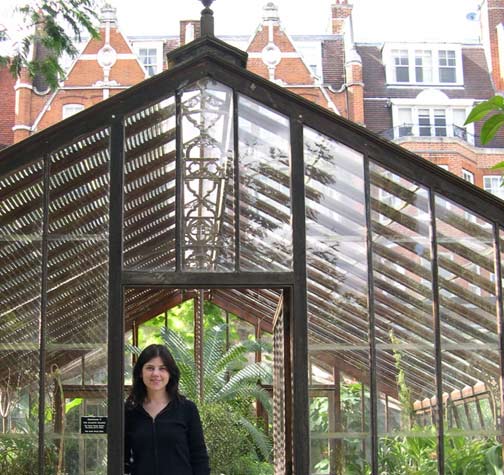 Greenhouse, Chelsea Physic Garden
As I file away the debris of the last year, I realize that I never finished posting about my week in London this summer. It was exhausting, but by no means exhaustive. I feel foolish that I didn't plan ahead! But I did hit the major highlights: on Sunday I saw the Chelsea Physic Garden with Neurophilosphy's Moheb. On Tuesday I visited the shiny new Wellcome Collection, right around the corner from University College London. Thursday was Sir John Soane's Museum, the Victoria & Albert Museum, and the Natural History Museum. On Friday I dropped by the Royal College of Surgeons, which houses both the Hunterian Museum and the Wellcome Museum of Anatomy and Pathology. (Wellcome's name is all over the place, because it's the UK's largest independent charitable trust funding medical research. I can't quite determine if they're richer than HHMI. . . isn't that the non-profit equivalent of "richer than Croesus"?) I've already posted about the Hunterian Museum & Wellcome Museum. Today I want to add some notes about a few other destinations.
Wellcome Collection
The Wellcome collection has thee exhibit galleries – a changing exhibition downstairs, and two upstairs galleries which feature artifacts from Wellcome's personal collection and contemporary science-influenced art. The current exhibition is "Sleeping and Dreaming," but during my visit it was "The Heart," interleaving medical illustrations and models of great historical significance (art/texts by da Vinci, Harvey, and Galen; varnished wood anatomical tables; a wax model of a dissected, Venus-like torso; etc.) with popular portrayals of the heart as seat of love & soul. Here's the exhibition summary:
The heart, widely understood as the place where life begins and ends, has always featured as a potent symbol in our religions, myths and rituals. Modern medical science has taught us that much of the power and influence traditionally attributed to the heart actually lies in the brain. Nevertheless we remain reluctant to let go of the notion – deeply rooted in everyday language and imagery – that the heart is the home of our emotions and of our true character.

This exhibition looked at the evolution of our understanding of what the heart is, what it does and what it means. Concentrating primarily on Western medicine and culture, it brought together objects and images from the histories of both science and art, as well as from everyday life.

It followed the development of our anatomical knowledge of the heart, but also considered its far-reaching cultural and symbolic significance. Why is it that the pump that circulates our blood is so intimately bound up with the way we discuss our emotional and moral lives, and so central to the question of the relationship between body and soul?
It's an interesting question, and the answer is by no means obvious. Now that everyone knows the brain is where "love" resides, why do we still return to the heart as the symbol of deep emotion? The brain isn't very romantic in appearance, but neither is the heart – it's actually quite a gruesome and unattractive organ, wrapped in a nasty tough membranous sac and swaddled in fat (it's really horrifying how much fat is packed around the hearts of even individuals of normal weight). The exhibit successfully explored that contradiction, without ever getting too esoteric. While you can no longer see it in person, and unfortunately photography was not allowed, you can view selected images on line here.
Other feature of the Wellcome collection included a selection of biomedicine-inspired art, including giant wax insect models (vectors that transmit malaria), glass models of viroids, and provocative pieces like John Isaacs' "I can't help the way I feel" (below). These were intermixed with the educational – a bound set of volumes representing the human genome, interactive computer games – and, in the next room over, the voyeuristically bizarre – chastity belts, vintage fetishes, and prosthetic limbs from Sir Henry Wellcome's personal collection. Something for everyone!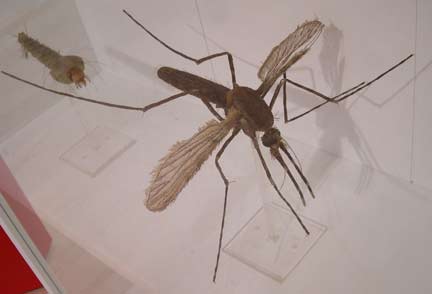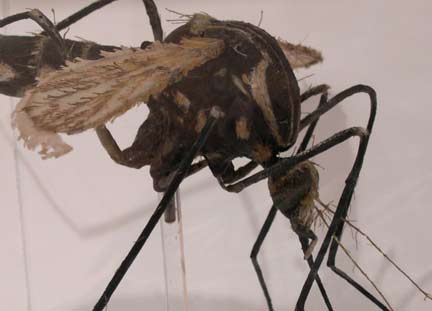 Wax models of malaria vectors
Wellcome Collection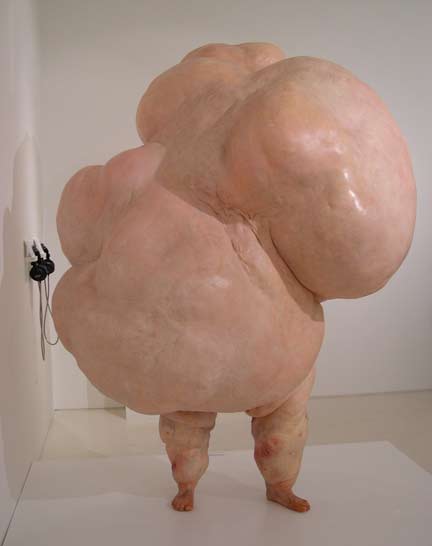 I can't help the way I feel (2003)
John Isaacs
"In this work lies an interest in a possibility of the emotional landscape of the body becoming manifest in its surface. Visually, the way in which the flesh grows, erupts, and engulfs the body can be seen as a metaphor of the way in which we become incapacitated by the emotional landscape in which we live and over which we have little control. The body also appears to be suffering from some kind of malignancy, as in cancer, but for me, the image of the figure, coupled with the title, leads one into an open contemplation of the plight of the individual." – John Isaacs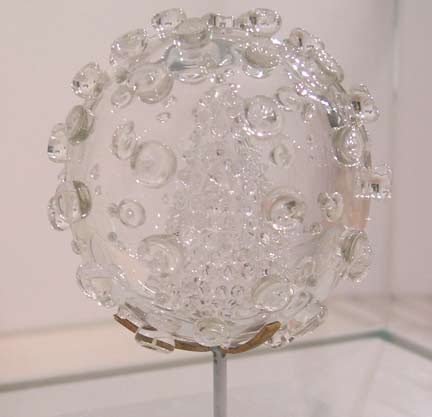 HIV Virus Sculpture (2004)
Luke Jerram
"This sculpture was created in response to the constant bombardment by coloured images we receive through the media. Many of these images are designed to communicate fear. The artificial coloring of images also affects what we think a virus looks like." – Luke Jerram
Additional destinations
Unfortunately, squeezing even half of London's museums into a week-long visit is impossible. And if you're a devotee of biological specimens and medical history, the places you'd like to see are probably not in your guidebook, because most people think they're "icky." So here are a few insights I gained on my trip and would like to share.
First, be aware that many museums are closed Mondays. Most are open only between 10 and 5; you might want to eschew lunch to maximize your viewing time, or eat on the run. The Tube goes almost everywhere you'll need, so buy an Oyster card; a week's pass for zones 1-2, which can be coded onto your Oyster card, is probably a good idea as well. But the Tube is slow, especially on weekends, so plan ahead – you don't want to waste an hour of that precious 10-5 window in transit from Holborn to Chelsea!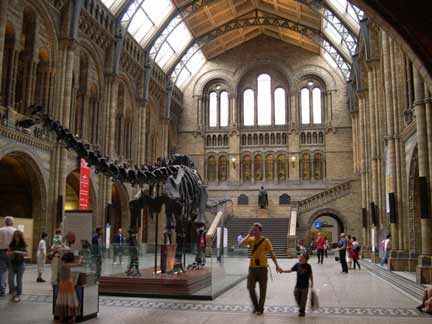 Natural History Museum, London

The British Museum: Mummies, Lindow Man. Be prepared: the Egyptian exhibits are noisy and busy, especially on the weekend. Lindow man, on the other hand, is totally neglected, probably because he looks like a dried up omelet. When you become homicidal towards tour groups, seek him out in the corner of room 50.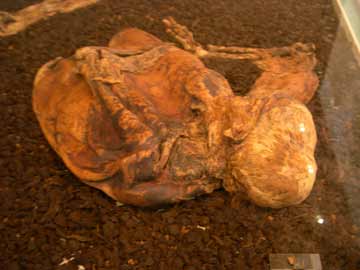 Lindow Man: not terribly photogenic, is he?
British Library "Treasures" (Ritblat Gallery) – Harvey's De Motu Cordis, letter from Darwin to Wallace, various herbal and medical manuscripts. Alas, no photography allowed – but go to the website, they have some lovely images there.
University College London: Pure randomness, in that collegiate what-shall-we-stick-in-our-glass-cabinets? sense. But it's right around the corner from the Wellcome Galleries, so why not pay your respects to the Auto-Icon of Jeremy Bentham (his skeleton, dressed in his clothes, with a wax head, sitting in what appears to be an antique telephone booth). So wierd.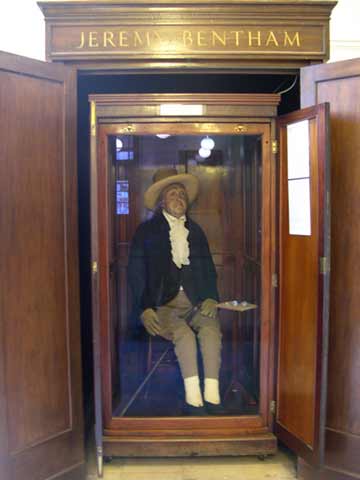 The Auto-Icon of Jeremy Bentham, with wax head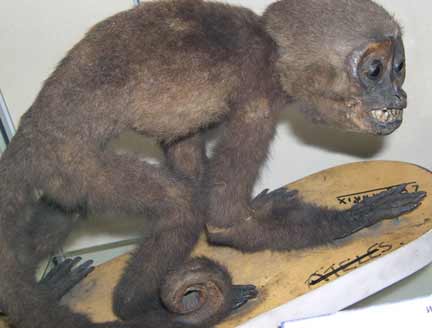 Stuffed taxidermic primate, likely quite evil, UCL
The Chelsea Physic Garden: Second-oldest apothecaries' garden in England (oldest is at Oxford). Snag a tour guide for the best experience, since the map and labels don't do much good. Then seek out the small glass cases of medical oddities in the back of the gift shop. The garden is only open in the afternoon, on certain days, so you'll have to plan around it, but it's extraordinarily peaceful (especially after the British Museum). And the walk through Chelsea is lovely.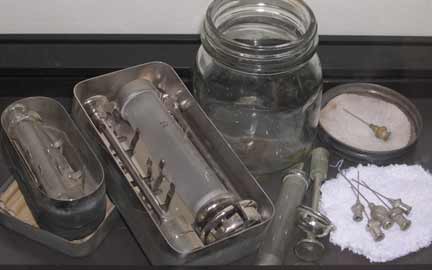 Vintage drug paraphernalia? Chelsea Physic Garden
The Wellcome Library (same location as the Wellcome collection, but slightly different hours): You need to come prepared, knowing what you want to view. Research in advance! I didn't! Damn!