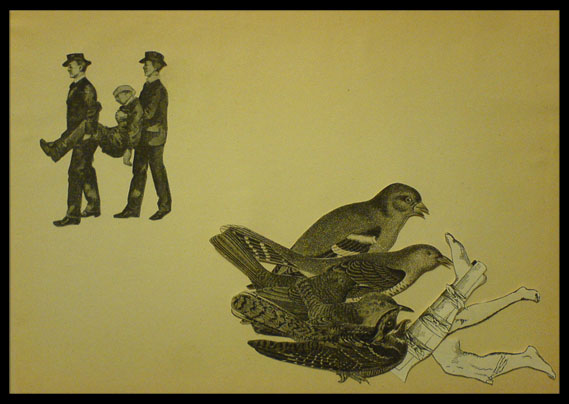 Loss
collage
Nicole Natri
Nicole Natri is a Swedish collage artist whom I've been following for a while. My favorite piece of hers is Loss. . . a simple justaposition that defies simple interpretation. Nicole's work illustrates that it can be more challenging to create an unpredictable, ambiguous scene than a linear story. As she puts it, "In the progress of making Loss, I made a physical loss a symbol for the psychic one."
You can see more of Nicole's work here. Be sure not to miss Halloweenhead and Anguish.
The best part is that Nicole reveals her influences – vintage books, photography, medical art – and works-in-process through her highly individual blog. One of my favorite recent entries include this intimate peep at a vintage fold-out medical book, soon to be subsumed into art. As Nicole says, "I'm obsessed with the cultural history of our body." No wonder I love her work!
PS. Nicole is stylish as heck (I love her Halloween costume). So jealous!