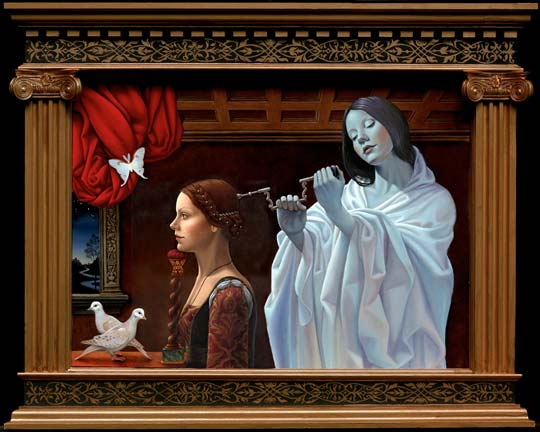 Self-portrait
Madeline von Foerster, 2005
I've wanted for some time to post this evocative self-portrait by artist Madeline von Foerster, but I knew if I did, I would have to accompany it with an article about the history of trepanation. An ancient surgical procedure which involves drilling the cranium and removing small sections of bone, trepanation has both mystical and medical associations, and despite its inclusion in Phil Pullman's popular His Dark Materials trilogy, it remains pretty obscure.
Imagine my surprise and delight when, in the timeliest of manners, the Neurophilosopher swooped in and wrote this excellent Illustrated History of Trepanation that I can simply link to! Thank you, Neurophilosophy Man! You're my hero! (In your honor, I hereby pledge to read a large chunk of neurophilosophy in the time I would have otherwise spent Googling "trepanation", "trephination", and all its other variants).
Anyway – after reading all about trepanation, I highly recommend that you visit von Foerster's website. Her intricate artwork bursts with medieval influences, symbolism, and erudition, while remaining completely delightful – and her textures, color and detail border on hedonistic. I'm not sure how many levels of meaning there are to some of her pieces, but it's lovely to try to figure it out.