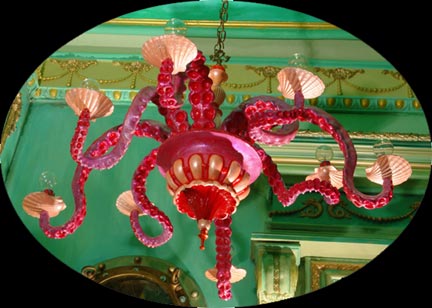 Bisbiglio d'Amaranto
Adam Wallacavage, 2006
Mixed media, epoxy resin coated cast plaster with lamp parts
Welcome to Captain Nemo's dining room!
I've capitulated, and created a new post category: cephalopodmania. Where else can I file the unique work of Adam Wallacavage? Check out his octopus chandeliers on his MySpace page or the Jonathan Levine Gallery. It looks like you can still purchase this fuschia beauty — if you have $10K in your renovation budget.
Wallacavage is also a photographer; his 2006 book is called Monster Size Monsters
.