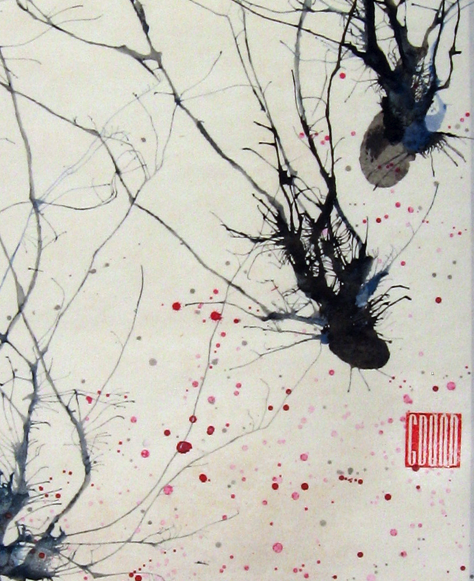 It's almost Cyber Monday! In our household, we do our shopping online, mainly because when we go to the trouble of renting a car, we have experiences like we did yesterday, when we were ticketed for lingering a full 32 minutes in our building's 30 minute loading/unloading space. Grrrr!
If you too wish to avoid that kind of holiday "fun," look no further than this year's collection of links . . . all available for purchase without leaving your laptop, much less parking anywhere.
10. Greg Dunn's neuron scrolls and prints: I've already blogged about Greg Dunn's beautiful neuroanatomical paintings, but I didn't mention that Greg also has original paper scrolls available. It's tough to imagine a present more unique than an original painting hand-applied to a five-foot paper scroll. The scroll pictured at the top of this post is sold already, but about ten remain and are currently $100 off for the holidays. Prints are on sale, too. (Sale through Dec. 7)
9. Help! These emergency bundles by Help are silly, adorable, and stocking-stuffer/secret-santa-rific. The website's fun, too. $4 or $20 for six.
8. Who doesn't like skeletons? The original 2007 edition of
Evolution, by Jean Baptiste de Panafieu and Patrick Gries, sold out after being reviewed in the New York Times Science section; this compact 2011 reissue of Evolution is a hoard of over 300 elegant black and white photos of skeletons, presented on thick glossy paper with lots of white space and an uber-clean design. The size of a standard hardback book, it's under $30 at Amazon.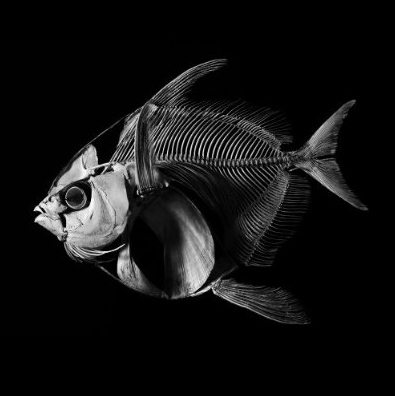 7. Posters: For high-end design mavens, the International Year of Chemistry 2011 posters are the classiest covers that never appeared on a 1972 Time-Life series about the Wonder of Science. From $20. The Logarithmic Timeline of Everything poster doesn't cover quite everything, but it does have lots of human evolution milestones. On sale for just over $10 including shipping.
6. Two things that your loved ones are almost certain not to have already: a gift membership at startup TurningArt — think of it as Netflix for paintings — currently 20% off (I haven't tried this — no wall space at the moment — but it intrigues me as a way of supporting new artists). Alternatively, how about a hardbound book concealing a secret glass flask, from BenderBooks (help them out on Kickstarter!)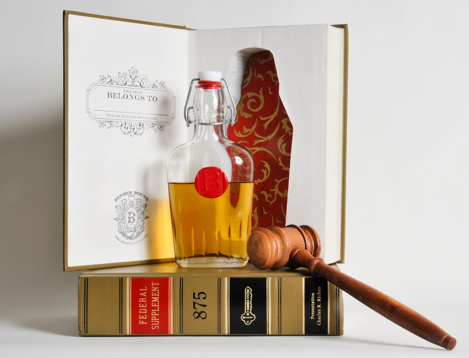 5. Bio-jewelry: I love my serotonin and dopamine necklaces from Made with Molecules. But if neurotransmitters aren't edgy enough for you, check out Aroha Silhouettes' line of Molecular Addictions. Yes, they have caffeine and chocolate, but most of these molecules aren't even legal. ("Honey! You got me MDMA for Christmas?!?") Meanwhile, Nervous System just released a version of their virtual-grown, three-dimensional Hyphae Pendant in sterling silver. Want.
4. I know real whales don't wear glitter, but this Victorian whale ornament makes me smile every time I see it. $16 at Catbird NYC; also available at Anthropologie.
3. Nothing rings in the new year like a head in a jar, and nothing helps you keep track of your pickling projects like the Mutter Museum's 2012 calendar, with photos by Max Aguilera-Hellweg, Rosamond Purcell, and others. I received one of these in the mail the other day, and immediately learned that in 1884, a wire-and-cork "model of colossal proportions" was built in Switzerland to "illustrate[] what was then known of the course of the various neural fiber pathways." Whoa.
Under $15 at Amazon.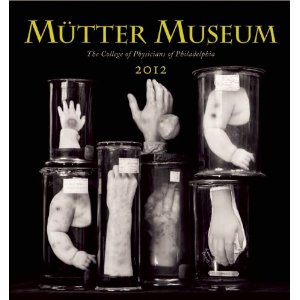 2. Theories of International Politics and Zombies. Because. . . oh, who needs a reason?
$12 at Amazon.
1. You may have heard of Kelly Houle's Illuminated Origin of Species project. Although her Kickstarter challenge has closed (to well-deserved success) you can still order these gilt Darwin cards, reading "there is grandeur in this view of life," from her website. $30.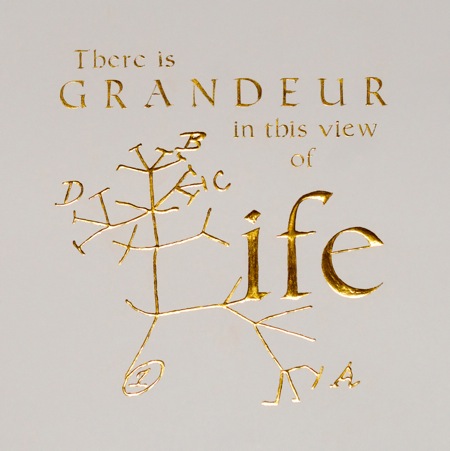 0. TEA ROBOT! (ok fine, I added this after I wrote this post. But it's SO CUTE!)