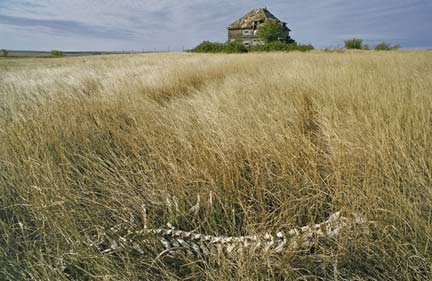 Photo by Eugene Richards
From "North Dakota, The Emptied Prairie"
National Geographic Magazine
These photos bear an eerie, graceful, painful resemblance to the country where I grew up.
The year I finished high school, my parents left "town" (7,000 people) for twenty acres outside a decaying farming village of 50 people (more or less). Over time, the village lost its school, its church, its general store, and its gas station; the only amenities left behind in 1994 were a post office and a cafe.
I always thought it was a terribly sad place. It lies on a high plateau, with little to break the weather. In the winter, snowdrifts render the whole country featureless and disorienting. In the summer, wind ripples incessantly across the empty fields, pries wide the gaping sideboards of empty houses, erodes gentle mounds that one only recognizes as former farmsteads because they're covered with tenacious yellow roses.
Supposedly, an entire neighboring community has completely vanished in this way, plowed under wheat and shrouded in roses. In the early morning, coming home from the night shift at the vegetable packing plant, I used to take random dirt roads through the farmland, looking for this ghost town. I never found it, but then I'm not sure I would have known if I did.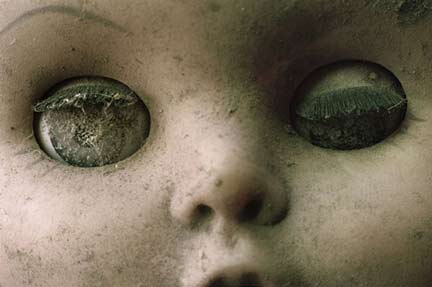 Photo by Eugene Richards
via