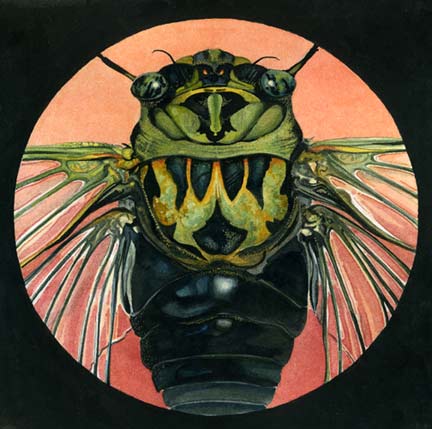 fallen cicada
watercolor, 2007
'Your voice, he interrupted, is also like a cicada, not only a corn-crake. Do you know the legend about cicadas? They say they are the souls of poets who cannot keep quiet because, when they were alive, they never wrote the poems they wanted to.' – John Berger
During my first month in this apartment, I heard cicada song outside my windows constantly. It woke me in the morning and grew almost unpleasantly loud in the evening. I grew so used to it, I'm not sure when it stopped, but I realized today that the trees are silent. Adult cicadas have short lives – perhaps shorter than the time it took for me to (finally) finish this painting.
This is one of the fallen, viewed through the porthole of a microscope: such a small, homely thing to make such a large song.
Until next year, then. . .