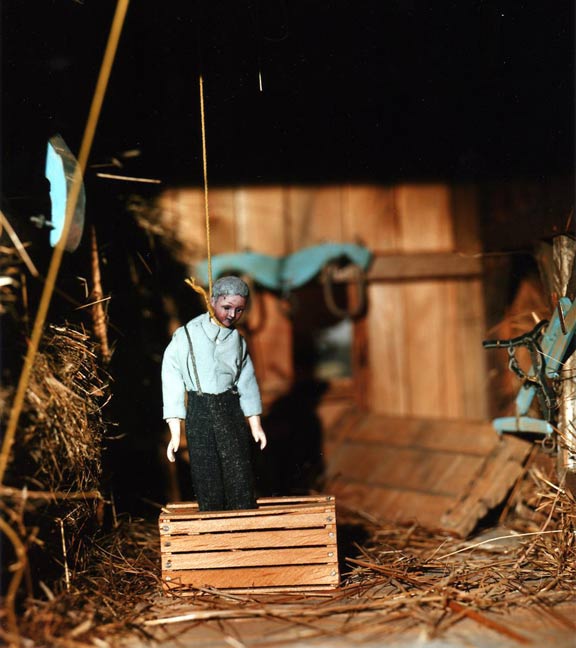 Barn
photo by Corinne May Botz
"Even the most depraved Barbie doll collector couldn't top this." – John Waters
Fans of CSI will be familiar with the "miniature killer" story arc, in which Grissom & company are taunted by a serial killer (with, apparently, a LOT of free time) who builds dollhouse-like crime scenes.
CSI's writers might have gotten the idea from Frances Glessner Lee, a socialite and forensic science amateur who built similar mini-murder rooms. Called the "Nutshell Studies of Unexplained Death," these nineteen dioramas were used as teaching tools at the Harvard Department of Legal Medicine and now reside at Baltimore in the Maryland Medical Examiner's Office.
Several of the dioramas, including a barn (above), kitchen, and woodshed, are on display at the National Library of Medicine's Visible Proofs exhibition (through February 2008).
Photographer Corinne May Botz documented Lee's dioramas in a 1994 book. The SF Chronicle review is really excellent, and contains this charming description of Lee's work:
Frances Glessner Lee, a Chicago heiress, provided for just about every creature comfort when she fashioned 19 dollhouse rooms during the 1940s. She stocked the larders with canned goods and placed half-peeled potatoes by the kitchen sink. Over a crib, she pasted pink striped wallpaper.

But you might not want your dolls to live there.

Miniature corpses — bitten, hanged, shot, stabbed and poisoned — are slumped everywhere. The furnishings show signs of struggles and dissolute lives; liquor bottles and chairs have been overturned; ashtrays overflow.

Lee, a volunteer police officer with an honorary captain's rank whose father was a founder of the International Harvester Co., used her ghoulish scenes to teach police recruits the art of observation.

She called her miniatures the Nutshell Studies of Unexplained Death, after a saying she had heard from detectives: "Convict the guilty, clear the innocent and find the truth in a nutshell." At her thousand-acre estate in Bethlehem, N.H., she set up a workshop called the Nutshell Laboratories. The first woman to become a member of the International Association of Chiefs of Police, she noticed how often officers mishandled evidence and mistook accidents for murders and vice versa. After endowing a new department in legal medicine at Harvard, she created the Nutshells as classroom tools, packing them with tiny but detectable clues: lipstick smears on a pillowcase, a bullet embedded in a wall.

"The inspector may best examine them by imagining himself a trifle less than six inches tall," she suggested in her curriculum notes. (source)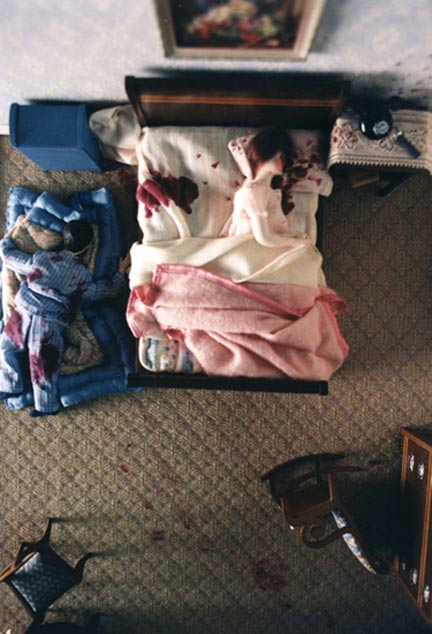 Three-Room Dwelling
Photo by Corinne May Botz
More: A 1953 Popular Mechanics article on Lee's work (via Modern Mechanix, who noted this "origin of CSI" prior to the obvious miniature killer influence)
a sweetly enthusiastic 1949 news article about her
A critical article by Jennifer Doublet