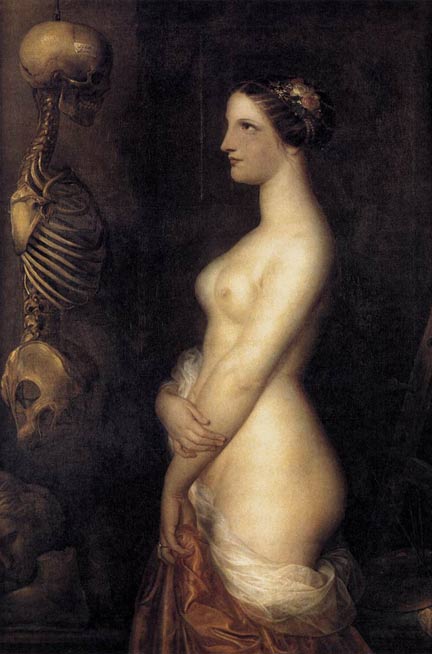 La Belle Rosina (Two Young Girls)
Antoine Wiertz, 1847
Morbid Anatomy has some excellent posts lately – if it's not on your blogroll already, you should go investigate! I was particularly taken with this painting. I suppose it's memento mori, and I should be thinking about my own mortality and all. Or – wearing my former-anatomy-professor hat – admiring that nice skeleton. But my first impression was astonishment that the living girl – obviously meant to symbolize blooming health – is so Rubenesque. Scholar Peter Gay calls her "strapping," and she is – strapping in the healthiest sense of the word. I wish I had as little cellulite as she does! The Belgium-born Wiertz, a somewhat controversial but popular painter in his own time, was clearly influenced by Rubens. Today, most Americans would probably consider Wiertz's nude overweight – what is she, a 12? Egad!
Bless those Romantics, who would no doubt have found Britney Spears too bony in her recent VMA appearance, and would have fattened her up with some nice mutton and beer. (Or, alternatively, bled her. I didn't say the last century was all good).
It's also worth noting that in this picture, "beautiful Rosine" is the skeleton, not the living girl. So says the helpful label pasted to her skull.