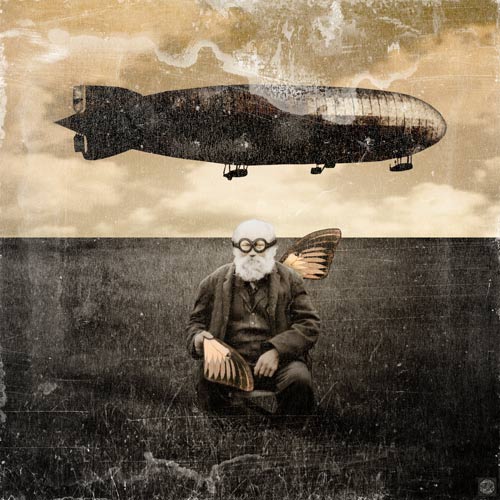 Zeppelin
Digital
Mikel Robinson, 2007
Candles and Ghosts (blog); Galerie de Illuminata (etsy)
I've always loved antique patinas, rusty found objects, and vintage photographs, but these days it seems like EVERYONE has joined the mixed media bandwagon. Suddenly we're saturated with sepia ancestors, butterfly wings, grungy fonts, and faux-scientific labels. I'm hesitant to work on the mixed media pieces I have on my back burner, because I'm afraid they'll seem too trendy! My protests that I was doing collage before ephemeramania may sound disingenuous, but I really was. (I also routinely anticipate Pottery Barn trends by a year. And I was never a fan of New Kids on the Block or Milli Vanilli. See? You don't believe me, do you?)
Although there are hundreds (thousands?) of creative people out there making lovely collages, I rarely find an ephemera artist who makes a strong impression on me with his or her body of work. Mikel Robinson is such an artist. I love his judicious use of illumination, which evokes the primitive technology of advertising lightboxes and magic lanterns, or the gentle fading of souvenirs abandoned under a perpetually sunstruck window. He understands the light-spirited whimsy-wrapped-in-history that is the heart of ephemeral art.
But at the same time, there's a deeper tension in Robinson's pieces. Zeppelin, the steampunky image above, is at first glance ridiculous. Check out those coke-bottle goggles! But it's also a tragic juxtaposition: a humble, self-taught amateur inventor, whose aspirations to flight are embodied in a broken wing and a black machine of war. Sadly funny; damaged, yet stubbornly resourceful – it's a quintessentially American take on Icarus.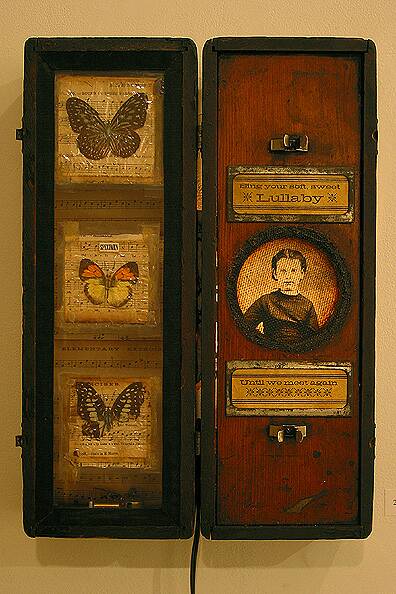 Lullaby
Mixed Media
Mikel Robinson, 2003
Although there may be a lot going on under the surface, Robinson keeps his pieces refreshingly simple, resisting the insidious urge to layer and texture an image to death. He lets the artifacts speak for themselves, with minimal (or no) framing: in short, he knows when to stop! In his restraint, Robinson is more closely aligned with the intimate assemblage tradition of Joseph Cornell, than with current trends in altered books or scrapbooking – though the stray butterfly wing here and there does keep his work looking current.
Mikel Robinson's work is available through his website and through his etsy gallery.