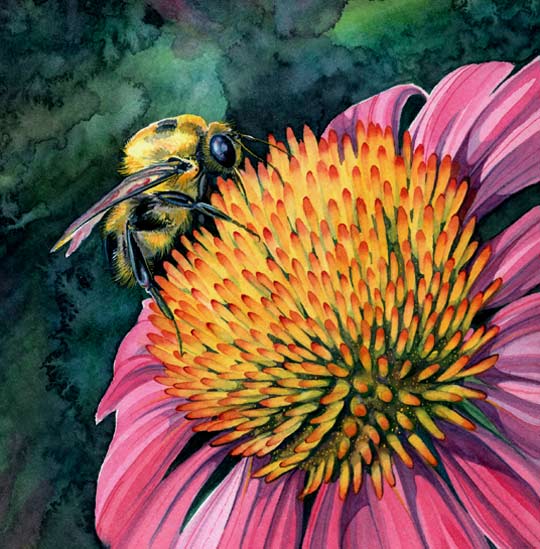 Bee and Echinacea
watercolor, 8.5″ square
2007
A few weeks ago, I asked a beekeeper at the Portland (Oregon) farmer's market whether his bees were ok. "Yeah, they are," he said, "but I get that question a lot." On Saturday a Seattle beekeeper told me he'd "had some losses" but added soberly, "it could be a lot worse."
Since colony collapse disorder (CCD) broke out last November, as many as a quarter of our domestic honeybees (Apis mellifera) have disappeared, abandoning hives full of food and larvae. Some beekeepers have lost up to 90% of their hives. Since the adult bees don't return to the hive to die, it's impossible to say what killed them; the few victims left behind display a confusing variety of pathological problems, such as a digestive tract clogged with undigested food, elevated numbers of normally harmless pathogens, and discolored tissues. Weirdest of all, opportunistic scavenger species and bees from other hives won't touch the abandoned stores of honey. What do they know that we don't?
From a agricultural perspective, it's a pressing question. Not all crops require bee pollination, but over 100 do, including almonds and many fruits. The bulk of a beekeeper's own income is derived from renting his or her hives for pollination services, not from honey production – the Oregon beekeeper I interviewed said with a smile that he barely makes any money on honey. California's almond growers have begun outbidding other industries for the services of beehives, because there are simply not enough to go around – and that was before CCD kicked in, decimating the bee supply in some regions of the US.
• View a narrated slideshow about CCD and the industrial side of beekeeping (NYT)
Depending who you ask, possible causes of CCD include GM crops; malnutrition (poor pollen quality/availability, or poor supplements provided by keepers); unusual numbers of common parasitic mites (varroa); a virus; funguses (a new, more infective strain of Nosema); poor genetic diversity in domestic bee strains; cell phones (or cordless phones – there seems to be some confusion); and pesticides (usually neonicotinoids). Whatever it is, it's global – Canada and Europe also report losses. France, after serious hive losses several years ago, banned some neonicotinoid pesticides, but continue to lose bees anyway. Australia is largely ok; some US beekeepers have replenished their stocks with Australian bees.
• recent LA Times review of the situation (June 10, 2007)
One (somewhat) comforting hypothesis is that CCD is actually old news – a periodic disorder that has happened before, and will clear on its own. Intermittent seasonal losses have been reported since 1868, in both the US and Europe; the occurances were given names like "dwindle disease", "disappearing disease," and "Isle of Wight disease." In some cases, a putative cause, like fungus or unusual weather, was blamed; in other cases the problem simply went away without any likely cause being found (Underwood and van Engelsdorp, 2007). So will CCD just go away? Hopefully, but no one's counting on it.
Agricultural practicalities aside, there's something gut-wrenchingly wrong about CCD. A fundamental piece of the ecosystem is being leached away, and we have no idea why. I'm reminded of the epidemic of frog deformities a decade ago. Despite frantic experimentation by ecologists and developmental biologists, it was never solved (the most likely culprits are trematode parasites; but pesticides, habitat loss, and UV radiation probably contributed to the problem). Will a similar complex of interlocking causes be found for CCD? Will we be able to cure it, or will we just have to wait for it to diminish – as we did with the frogs?
More:
MAAREC Colony Collapse Disorder homepage
CCD Working Group Preliminary Report