Language Log notes that the British softcover edition of Louann Brizendine's The Female Brain
is out, and the cover art differs significantly from the US hardcover edition. Such differences are not unusual, but what is interesting here is the change in the implied message of the cover: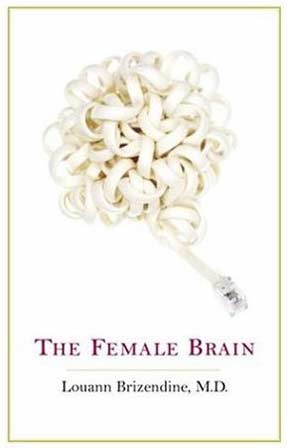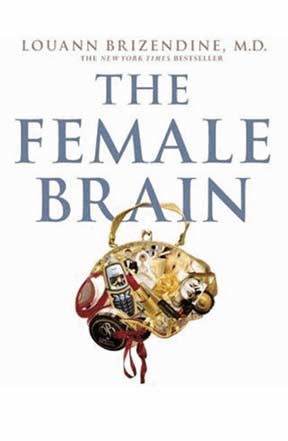 The American cover represents the female brain as a tangled phone cord, clearly implying communication, which is a theme of the book (though arguably a tangled and outdated analog communication?) The new British cover depicts a purse jam-packed with cosmetics and accessories, implying. . . superficiality? A cell phone (about to be clobbered by an open lipstick – handbag disaster in progress!) references the communications theme, but overall, the bursting purse barely resembles a brain to me, and certainly not MY brain. I thought the phone cord was clearly brain-shaped, elegant and serious in its cream-on-white aesthetic. The British version is flashy, pink, and disorganized – kind of a Bridget Jones' Brain.
So is the book's content serious, or is it chick-lit? I'm not sure, because I haven't had time to read it yet, but I'm anxious to get to it because some of the reviews are troubling. This is a book that claims to out the gender differences we all suspect are there, but don't always like to acknowledge. As David Brooks put it in the NYT,
These sorts of stark sex differences were once highly controversial, and not fit for polite conversation. And some feminists still argue that talking about biological differences between the sexes is akin to talking about biological differences between the races. But Brizendine's feminist bona fides are unquestionable. And in my mostly liberal urban circle — and among this book's reviewers — almost everybody takes big biological differences as a matter of course.
I'm one of those who suspect significant neurological differences do exist between the genders, so I can't criticize Brizendine for calling attention to them. But I'm not sure exactly what those differences are. I don't think we have the research to determine that yet. And apparently Brizendine doesn't always offer citations to back her assertions quantitatively. Language Log has done an excellent job of catching and critiquing the questionable points (see here for a list of posts), but they've propagated through the popular media, getting less scientific with each round of book reviews. For example, I bet you didn't know that having children shrinks your brain, but maternal love rebuilds it!
From Language Log:

Judging from the Sunday Times quotes, some of the other quantitative inventions in The Female Brain are also intact:

"It's true that the female brain shrinks by about 8% during pregnancy. That's the bad news, but the good news is that it recovers about six to 12 months afterwards to create large maternal circuits."

Last year, when I looked up Dr. Brizendine's reference for this assertion ("The spread of bogus numbers in the meme pool", 10/16/2006), I found that the 8% number is not entirely made up, like the words-per-day numbers — but it was based on one small study, whose results were substantially below the cited value:

There were two women in the study, number 6 and 8, who were measured both before pregnancy and at term. Over that period, their brains shrank 4.06% and 6.6% respectively, for an average of 5.3%. There were eight women in the normal group whose brains were measured at term and 24 week (i.e. six months) after delivery. Their brains increased in size during that time by 4.0%, 3.0%, 5.5%, 3.2%, 4.8%, 5.6% and 5.1% respectively, for an average of 4.3%, with a 95-percent confidence interval of 3.4% to 5.2%.

(And there's no scientific support for the view that circuits of any particular kind are being either destroyed or created. The study simply measured overall brain volume, without distinguishing among gray matter, white matter, blood vessels or whatever else, and without providing any evidence about the relationship of the changes in overall size to any changes in number of neurons, number or type or strength of synaptic connections, or any other functionally-relevant parameters. It seems unlikely that such rapid changes in overall size could be due to the death and birth of neuronal cell bodies, or to atrophy and re-creation of a large fraction of the dentritic arborization.)
I have to get around to reading this. I'm glad I'll be seen in public with the US cover, not the British one. Although who knows? Maybe I'll get the US paperback, which has a lovely hot pink stripe obscuring the brain entirely, and a cover blurb proclaiming "sassy!"