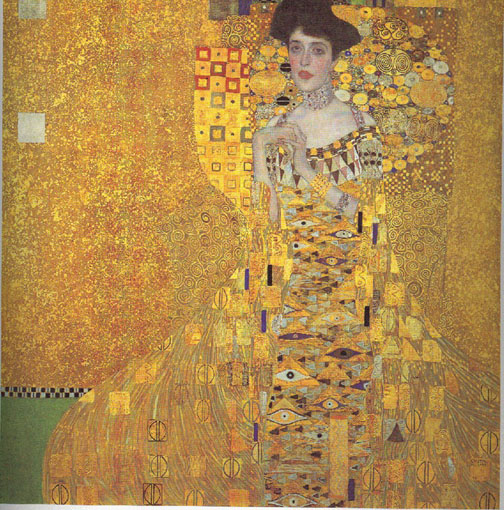 "Adele Bloch-Bauer I," by Gustav Klimt, 1907.
Today I visited the Neue Galerie in New York to view the stunning painting "Adele Bloch-Bauer I," by Gustav Klimt (1907). Klimt is most familiar as the artist behind "The Kiss" (a seemingly ubiquitous college dorm-room poster; also painted in 1907). I never loved "The Kiss" (the woman's head is in a most uncomfortable position!) but "Adele Bloch-Bauer I" is among the few paintings I would pay $15 simply to stand and stare at. It's worth it, not only because of the impressive size of the piece (55.5 inches square) but also because Klimt used metallic gold and silver, raised texture, and embossed symbols which can only be appreciated on the original painting. I have never seen a reproduction of this painting that did it justice.
The key to the painting is the contrast between the subject's gently rendered face and hands, and the ornate geometric patterns framing her. During his "Golden" period, Klimt was inspired by Byzantine iconography and mosaics portraying religious figures or temporal rulers, such as the Empress Theodora, in rich fields of patterned gold and silver. Klimt's use of small squares and metal leaf directly evoke Byzantine mosaics. But the Egyptian eyes of Horus layered on the dress, the Celtic-style spirals behind Adele's head, and the amazing organic texture of the background take the piece beyond any specific tradition.
There are four other Klimts in the show, including a second, much later portrait of Adele, but I think "Adele I" blows the others out of the water. Almost 100 years after its creation, it still feels completely modern to me.
In person, I observed several things about the portrait that I have been unable to detect in reproductions. Adele is actually standing before a sort of armchair or fat-armed throne, upholstered in gold swirls. Just above the halo of patterns behind her, at the extreme top of the painting, is a tiny rectangle of green paint which is often cut off in careless reproductions. The green perfectly matches a larger green field at the lower left. In person, the green glows against the gold, setting up a unity with blue-green undertones in Adele's skin, and contrasting with the rose color of her mouth. The green also establishes a continuous background behind Adele and her throne/halo: Adele is in a real room, with a chair and a green wall behind it–not just floating in a lustrous firmament. She is not a divinity after all, but a woman.
As I moved from side to side, I was able to appreciate the metallic nature of Klimt's materials, especially the raised embossing he used on the symbols of Adele's dress. Abstract "A" and "B" shapes clearly recur throughout her flowing sleeves, representing her initials. There are more "B" shapes than "A" shapes, and they vary in execution. At least two are in silver. I was reminded of the Unicorn Tapestries' mysterious AE initials. In the case of those tapestries, residing just uptown at the Cloisters, we no longer know who the initials were meant to commemorate.
The Neue Galerie also has several sketches by Klimt, including several preparatory sketches for the portrait of Adele, which was commissioned by her husband, Ferdinand Bloch-Bauer. In the sketches Klimt barely hints at her face, but fully outlines her sensuous, striking lips, which are slightly parted in the final portrait. A photograph of Adele at the Neue Galerie suggests that whatever stylistic liberties Klimt took with her setting and garments, he painted her face most realistically.
The story of how "Adele Bloch-Bauer I" arrived at the Neue Galerie is convoluted and fascinating. The paintings, along with most of Ferdinand Bloch-Bauer's possessions, were seized by the Nazis in 1938. Bloch-Bauer's niece, Maria Altmann, struggled for years to have the paintings returned to the family. The paintings resided in Austria for many years; my friend Sylvia saw them there in Vienna three years ago. However, a recent series of legal decisions required them to be returned to Altmann (now 90) and the other family heirs. Adele I was subsequently sold to Ronald Lauder on behalf of the Neue Galerie, at a reported price of $135 million.
Is the painting worth $135 million? Van Goghs and Matisses have sold for much less; the previous record was held by a Picasso that sold in 2004 for $104 million. I have no idea if a Klimt is worth more than a Picasso, but I think seeing this Klimt in person was definitely worth $15.