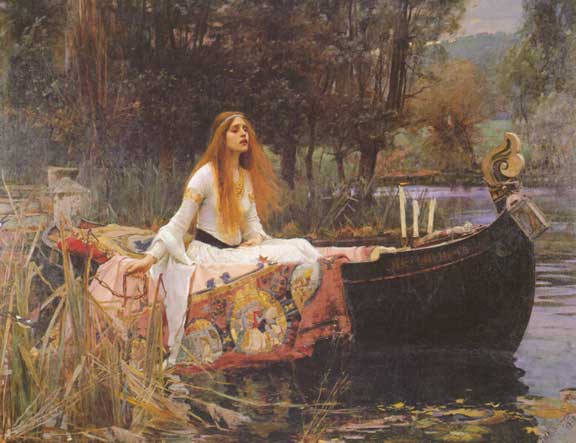 The Lady of Shalott, 1888
John William Waterhouse
I arrived at the Tate Britain (better known by its former name, the Tate Gallery) Monday morning, only to discover that their entire inventory of pre-Raphaelites had been removed from display a few hours before.
I nearly had an American temper tantrum on the spot. Adoration of the pre-Raphaelite collection (including Millais' Ophelia, Rossetti's Ecce Ancilla Domini, etc.) was my entire reason for visiting. I could have easily gone to the Tate last week had I known of the impending change. There was no warning on their website, and the museum's rep admitted it wasn't planned until next week. My travel karma is seriously awry!
Luckily, the excursion was salvaged. I saw one Rossetti, his late work Proserpine, and four paintings by Burne-Jones and Waterhouse, who are usually shoehorned in with Rossetti and Millais but in this case were in the next (not emptied) room over. Very lucky for me indeed, since Waterhouse's Lady of Shalott may be my favorite. painting. ever.
I know the last decade's surfeit of pre-Raphaelite nostalgia has made everyone heartily sick of large-eyed, anguished damsels. But this painting has been part of my psyche for over twenty years, just as long as The Lord of the Rings. As with LOTR, no amount of popular abuse can diminish my affection for it.
Background on the Lady of Shalott/Elaine of Astolat
Tennyson's poem, "The Lady of Shalott" (text and more and more)
Waterhouse depicted this story three times. This painting is his earliest, and I think, the best, although I also love his 1894 version. I prefer Waterhouse's versions over those of his contemporaries because all three are portraits – his Lady has a personality. She's the legendary victim of unrequited love, of course, but she's not passive. She chooses her own destiny (or is willfully self-destructive) when she chooses to look out the window at Lancelot. She's haunted. She's despairing. She's angry. She represents the tension between the cloistered, unreal sphere of art ("I am half-sick of shadows") and the passionate sphere of the body. And of course, fueling infinite feminist analyses, she represents how women have historically been punished for violating social constraints and embracing their independence or sexuality:
Nevertheless, it is hard to read his, or the other, images as anything but an oblique account of the confined and restricted world of the Victorian woman–accursed and prohibited by virtue of her sex alone–and the dire consequences attendant on rebellion. The rejection of seclusion in the shadowy sphere of prescribed femininity, where the approved activity is weaving or embroidery, leads immediately to ostracism and social death. The enclosed rooms in which these ladies live, looking out on inviting sunlit landscapes, and the tangled threads binding their vigorous limbs, are surely metaphors of woman's condition, signifying the docile, passive, reflective and domestic role that dominated Victorian ideas of femininity. The lady cannot break from her constraints: her gesture of independence provokes the curse. It is interesting that most artists chose to depict this particular moment, so that their ladies are frozen forever in their decision of defiance (Jan Marsh, Pre-Raphaelite Women, 1987).
At the Tate, I saw few details that my close (ok, obsessive) examination of this painting in books and posters hadn't already revealed. But one pleasant surprise was that most of the painting, aside from the face, is almost impressionistic, thick with buttery smudges of paint. The tapestry draped from the boat is especially rough, almost coarse.
To me, the strength of the brushstrokes seemed better suited to the magnitude of the themes involved than the pretty, polished impression one gets from a reproduction. Millions of dorm room posters notwithstanding (and despite Lancelot's insipid comment "she has a lovely face,") this is not a pretty painting at all – it's downright frightening. If you get what I mean by that, then you probably like the painting as much as I do.