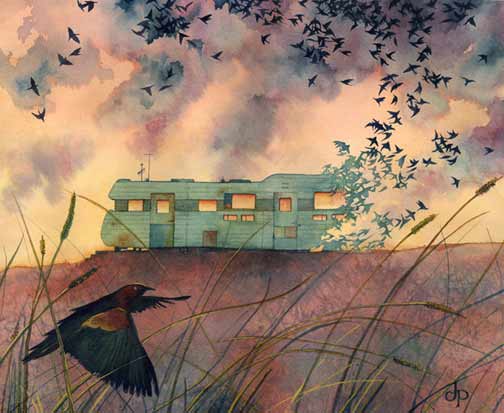 Fly Away Home
Watercolor
Three of my watercolors appear in the new Fantasy Illustrator's Technique Book
, by Gary Lippincott. I was supposed to get a copy from the publisher, but no copy materialized, so I finally popped over to Amazon and ordered one
, just to see if they had mishandled my babies. What a pleasant surprise! Not only is it a very pretty book (I expected as much from Gary, of course), but the text the editors have written to accompany my paintings made me laugh out loud. Check out their commentary on my painting Fly Away Home:
Giving your audience the unexpected is a large part of fantasy art. This painting's title, Fly Away Home, is punningly reified as one end of the mobile home gradually breaks down into a flock of birds. It's more than a clever visual trick. The narrative effect comes from the question posed to the viewer: At some time in the past, did a flock of birds become the mobile home?
To which insightful question I can confidently respond, "What?"
I respect authorial intent, especially my own authorial intent, and honestly, punning reification never crossed my mind once while doing this piece. But such a flattering gloss must be authoritative, don't you think? From now on, I will enjoy saying "I really reified that one, didn't I?" with great solemnity.
For those who like context, here it is on the page, heading up the "Fantasmagoria" section – the bottom painting, Arboreal Pachyderms, is by none other than Tom Kidd. Good company is such a treat!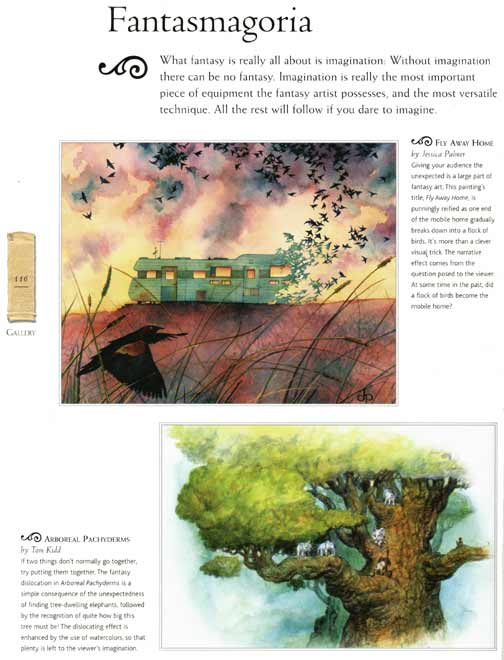 My only nitpick is that somewhere during scanning, digitizing, sending files across the Atlantic, and printing, the color saturation got bumped up to "screaming." In person, the paintings are much calmer, translucent, watercolory. I've tweaked this file to better reflect what I see when I look at the painting. Probably I'm the only one who would notice the difference, but hey, that's my punningly reified baby there.
Here's the link: