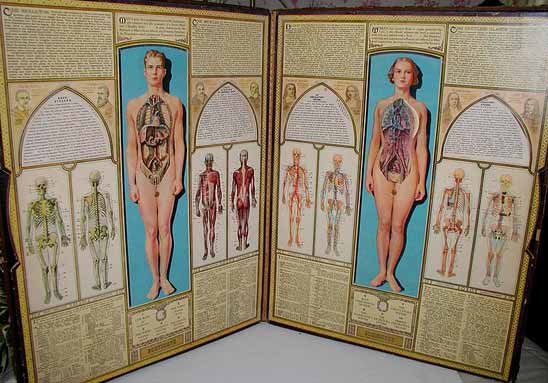 Bodyscope Anatomical Chart, 1935
approximately 20″ x 16″
Ralph H. Segal, Bodyscope Publications Inc.,
Educational Building, 70 5th Ave., NYC
From 1935, two ornate Bodyscope teaching charts. Three windows in each chart allow a cutaway view of the torso and its accompanying legends (in the arches on either side) to rotate, providing five different views of the internal organs. A numbered key below the figure indicates which of the organ systems is currently displayed. The University of Kansas Clendening Library has a complete set of images in its collection (of the male, the female, and a third organ system chart).
The combination of period fonts, Art deco flourishes, and almost iconographic framing is charming. The spandrels on either side of the arched legends hold portraits of historical luminaries of medicine like Vesalius. Most of the text is anatomical description. However, the legends directly above the figures relate not to science, but to the larger social & moral context in which human anatomy was taught. For the man:
Man's great Accomplishments and noble Aspirations are achieved through the possession of a Sound Mind and a Healthy Body . . . In these Attributes lie the Bulwark of Man's Social, Moral, and Domestic Structure: the Foundation which perpetuates Humanity's Existence.
For the woman:
Woman, her creative body as wisely patterned by God, is the Abode wherein the Seed is endowed with Life and imbued with a Soul. . . Her Maternal nurturing and inspirational influence are reflected in Mankind's aspirations; the fruits of which become her Reward.
What a contrast between active and passive roles! Man is the disciplined architect, woman the. . . gardener? Man "perpetuates Humanity's Existence" (I thought that particular activity involved both sexes), while the woman gets Rewarded with symbolic fruits. Nice. It's interesting, though not surprising, that such moralizing was considered an appropriate way to preface medical education.
For additional detail, have a look at this near-mint specimen offered by Stonegate Antiques.
Incidentally, the Bodyscope chart set is labeled both "copyright 1935″ and "patent pending." I can't find evidence of a patent actually issuing. However, one RH Segal is the inventor of record on another patent from 1935, for a perpetual calendar which also employed a system of paper dials. It's likely the same individual.