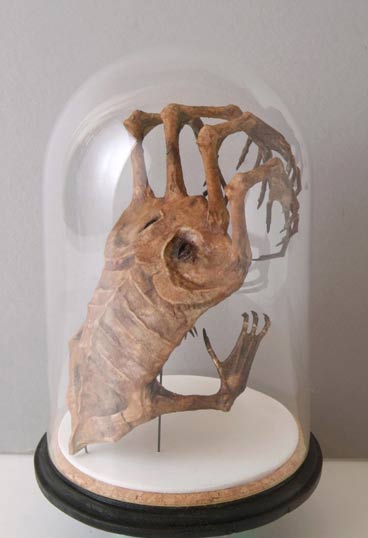 Avaritia/Jose
Hajime Emoto, 2005
Quick quiz: can you list the seven deadly sins?
Hajime Emoto's cryptozoological specimens are so convincing, I have trouble believing they're conjured up with paper and bamboo. But this collection (Google translation) representing the seven deadly sins, incarnate and mummified, finally convinced me. I don't want them to be real.
I think they're viscerally creepy, in a way that his dragons and sea life are not. Coming from someone with a collection of dead insects and (real) bones, isn't that an oddly contextual reaction? Is the collection a kind of litmus test for latent superstition?
Unfortunately the artist's site is entirely in Japanese, but to orient you, it's arranged as a virtual "fantastic specimen museum" with three floors and a basement. An index to all the galleries is here (Google translation).
Via lots of places.